Pesca a mosca alternativa, sardine al lago.
Fly fishing with agone or sardine, fun, more fun, more fun.
In the first warm months of the year, May-June, when the freshwater fish begin to prefer the night hours to seek shelter from the heat and the sun, many arrive in many lakes of northern Italy, the alose (sardina). I personally visit Lake Iseo. The fishing ban period for this species normally runs from May 15th to June 15th. In this period the aloses, approach in mass and mainly in the evening hours to the shores of the lake, looking for beaches and ghiareti where to be able to lay eggs and thus repopulate future generations.
Many fishermen do not know its origins, so we make a small introduction to this fish.
The Alosa Agone is a freshwater fish that lives mainly in the lakes of northern Italy, considered a direct descendant of the cheppia, which remained trapped in the lakes after climbing, reduced its size and from there became sedentary. However, there are ichthyologists who claim that the Alosa Agone is not a descendant of the cheppia although this is only a small school of thought.
As anticipated, it is a fish that can be found in many lakes, including Lake Como, Lake Maggiore, Lake Lugano, Lake Garda, Lake Iseo and Lake Orta, which was also introduced into other environments. Its size ranges on average from 15 to 30 cm, its color is silvery and on the back it has dark spots, the skin is very scaly. you can also find many other useful information on wikipedia.
Coming back to us, after these notions about what we are fishing, it seems right to me to make some reflections and give you some indications to have some success:
1 The Alosa agone is a fish that has marine origins, if we look at it well it is very thin, its silhouette makes it a very fast fish, the recovery will therefore be very fast and long stripped that can also be interspersed with stops, or cane under arm and away all.
2 This is a fish that moves in very numerous flocks, so depending on the fishing areas I can use up to 5 flies, I do not recommend it for fishing with rat tail, personally I do not use more than 3
3 Moving in large herds it is possible to hook up to 2/3 fishes at a time so tip ranging from 0.20 to 0.25 maximum, expert fishermen say that despite the frenzy the catches decrease if the wire size increases.
4 The mouth of the sardines is quite small, the hooks to be used do not require particular characteristics, making tests do not recommend barbless hooks, you will lose 90% of the fish, a hook that I recommend is the gold grub of # 14, to vary in size in based on sardines. Suitable flies are very simple to build, as you can see in the picture, I mainly use fluorescent colors, I have the impression that they see flies better. The head fly I advise to lead it with a tungsten ball of 3 or 3.5 to ensure that the flies do not cross each other in the launch (a problem to be reckoned with).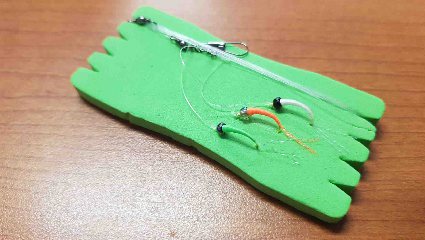 5 The depth varies according to the time, and to the fishing area, once chosen the place will need the adequate queue that can go from the float to the sinking 1.
6 The ideal equipment will be a rod that carries a tail 6/7 with its queues, all possibly from froller, unfortunately the areas to launch overhead are few and limited.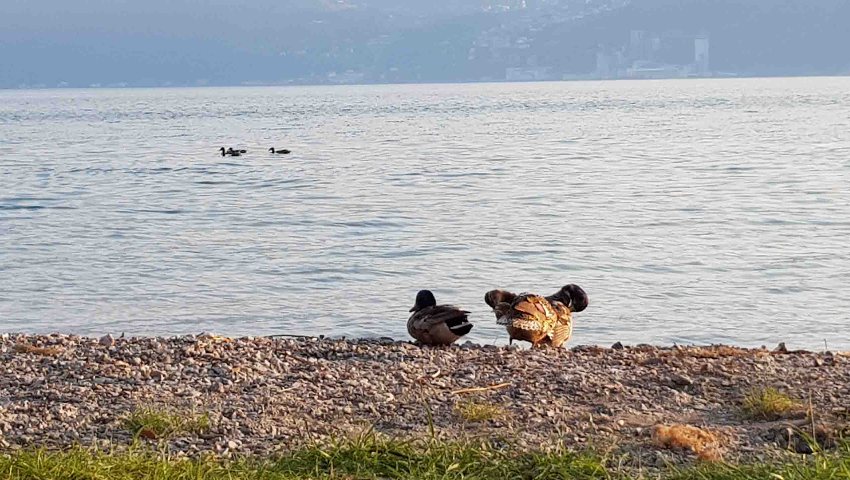 (the Germans have nothing to do with fishing, but since the lake is well populated it seemed only right to add them to the photos)

After this information, you will have to find a good location, calmly wait for the sunset and start fishing. The thing I love about these outings, besides the type of fun fishing, is being able to spend a few hours soaking in the cool waters of the lake, after the afternoon heat.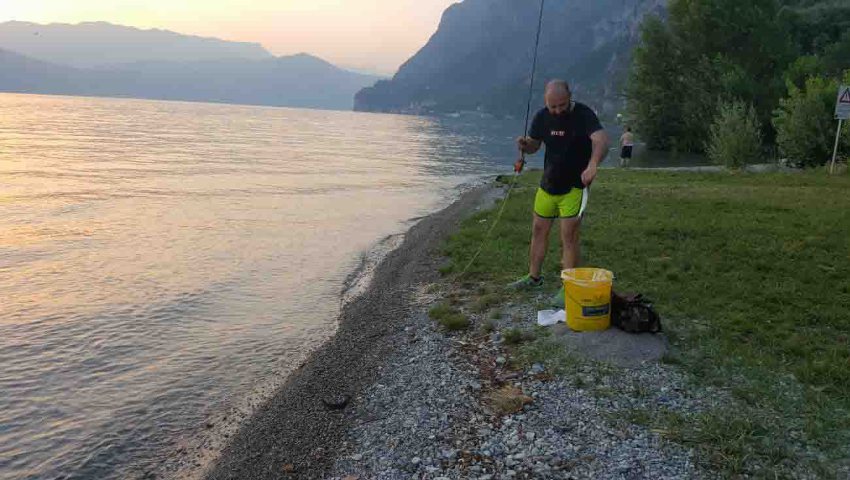 I hope not to have bored you too much but it seemed obligatory to give some information, not all of course ;-P But after this article I hope to see some more flyers next year, obviously after June 15th, on the banks of the lake to have fun, if then you have problems called that I will be happy to bring you ... a greeting, Marco
Comments
No comment at this time!
Leave your comment