Fly Fishing in the sea - July 2017
A little but fantastic fly fishing experience in the sea, i will remember it always
During the evenings and meetings of the fly club vallecamonica here in the shop, I had the pleasure of meeting and fishing a friend of Tuscan origin (Renzo), in the chat I found out that his father lives where I would go shortly afterwards on vacation, Marina di Cecina.
There was nothing left to do but ask if he knew someone in the area for having tips on commercials and baits... Lucky !! He has a friend from Cecina who is fly fishing at sea! In just a few days I feel with Federico, a very helpful Tuscan who promises to go out together and even puts me in touch with a boy from Pisa (Samuele) to go on a boat trip. I could not ask for more.16 July, arrival in Marina di Cecina, now my holidays begin, with the classic long and hot summer days. I am hearing my private guides, it is decided, on Monday evening I went out with Federico and on Wednesday morning by boat with Samuel.
Finally comes Monday night. Federco and I are at the Conad in Cecina at 11.00 pm, very punctually we introduce ourselves and leave for our spot. We arrive at the sea, sandy beaches surround us, I mount the cane, an old 9 '# 10 to which I had broken the tip, probably now it has become an 8'6 # 11 but it does nothing, thread 0.25 fluorocarbon, according to of my fishing buddy maybe a little big, he moves me from the beach and makes me fish in a groove. After some advice, how to get the bait to work is the first launch of the evening. I am using a floating rat's tail which is tied to a very small white minnow of about 3 cm which I kindly lent to me. We are fishing on the small spigolette, between 10 and 40 cm the largest and rarest seen the spot, we see them, they keep on detaching themselves repeatedly from the bottom of the channel, it seems that nymph but sometimes you also see a few stamps, do not you understand about what ... I've never heard of sea sedge .. Here it is finalmante, after repeated launches my first sea fish. A sea bass that, despite its size, gives me some emotion ..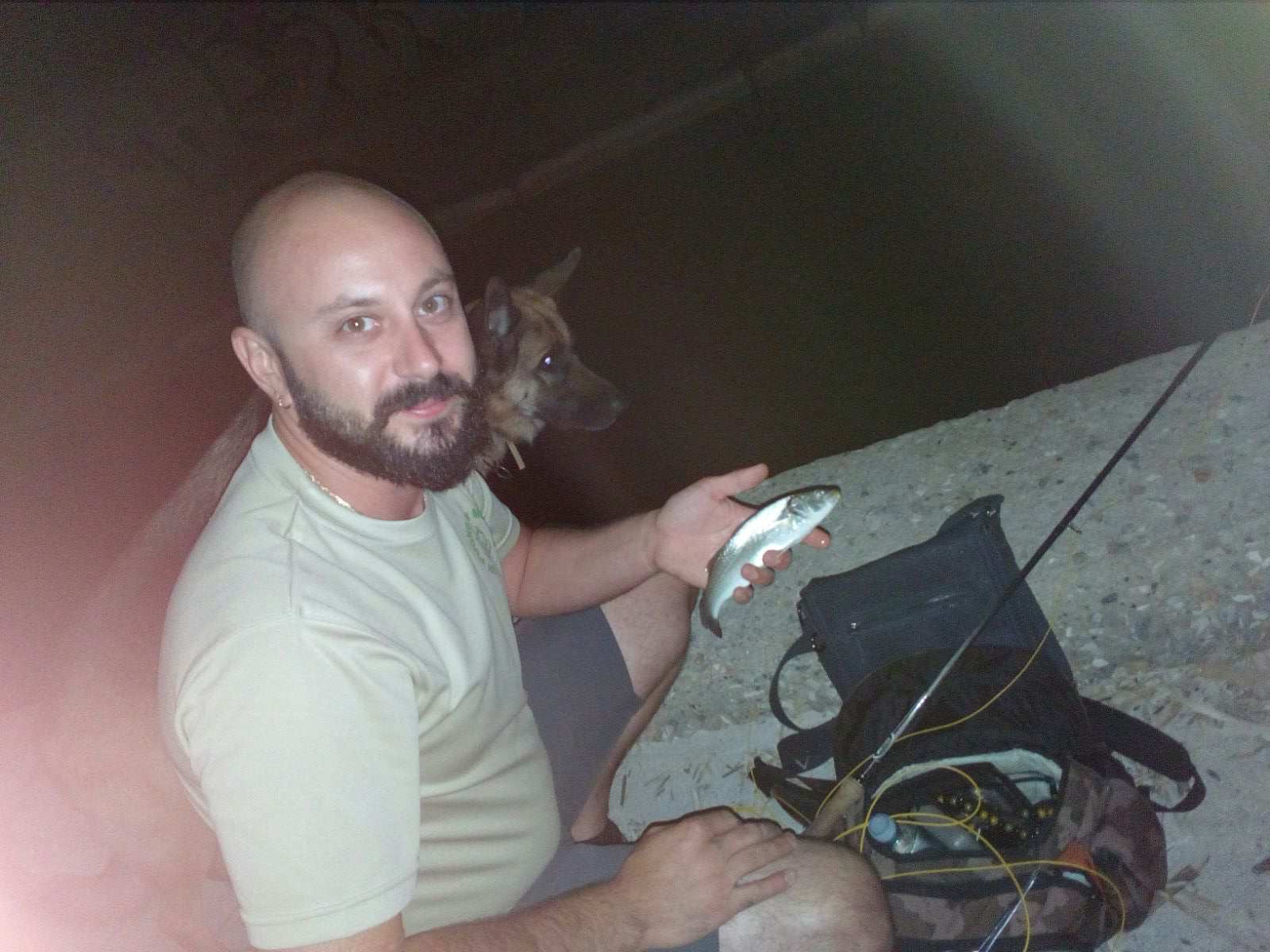 He starts to get late, it's half past one and we decide to move to the beach, a street lamp of yellow light illuminates the exit of the canal, Federico makes me change bait, now a 5/6 cm minnow with some foam in front for let it float. Launch at about 25 meters, where the light of the lighthouse ends, the sea is slightly rough, it is not easy because it continues to bring me the rat's tail towards the shore, so the stripped becomes an undaunted tail recovery to not ruin it against the rocks adjacent to the canal , after several attempts, however, something moves, I perform yet another cast and how the minnow touches the water Sbam !! a meal! Unfortunately this time I give a damn, I didn't really expect it, a lot
likely he was always a small fish, but I'll never know ...
The holidays continue, I'm hearing Samuele for details and without my noticing it's Wednesday morning. 4.30 hours, up early, yesterday there was a party in town and I didn't sleep a wink for the music and the noises until 2:00 am, I hope to keep up the day ... I set the navigator and face this trip with the music to ball, maybe I don't fall asleep while driving. :-D

Arriving at destination, Marina di Pisa, I finally know Samuele, a few words at the moment, you need to prepare equipment and boat. A small white motorboat, spacious enough for both, in addition to the control panel there is nothing, less things underfoot, the better. Half an hour and off we go, slow pace for the exit from the Arno river, the first chatter begins, now that everything is ready we can only enjoy the day. We go out a couple of miles, the sun is rising, it's a beautiful sight, you can clearly see the city and the fishermen's huts in the mouth of the Arno surrounded by the fantastic red of dawn.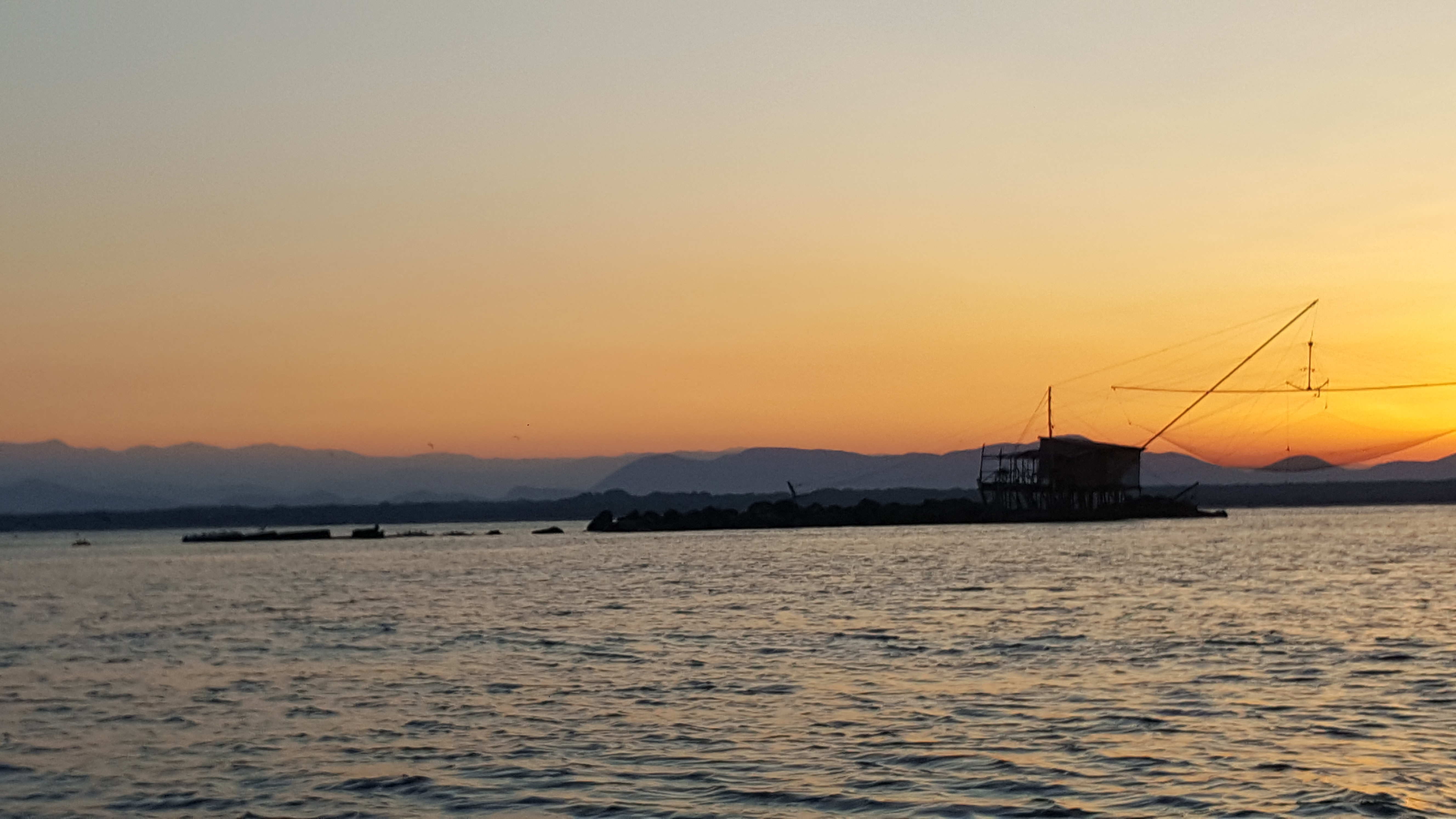 It is a serene morning, the wind refreshes us, we see the first seagulls, they fly in precise points and it is clearly seen that they take something from the water, they are eating anchovies. We stop in their vicinity, the fishfinder confirms the presence of fish, it's time. This time I am using an intermediate rat tail, on the advice of Samuel I assemble a 0.50 mm fluorocarbon finish about 1.5 meters long and likewise a 0.35 tip. The first launches begin, he at spinning immediately incokes some horse mackerel and mackerel, I must understand only the speed and the recovery method and here is the first blow. Allamo a horse mackerel, about 25 cm, fast fight and another throw away. The seagulls move and a chase begins to find the best areas. Now I try to strip faster. He spends little time starting to take mackerel, evidently these fish want more recovery speed.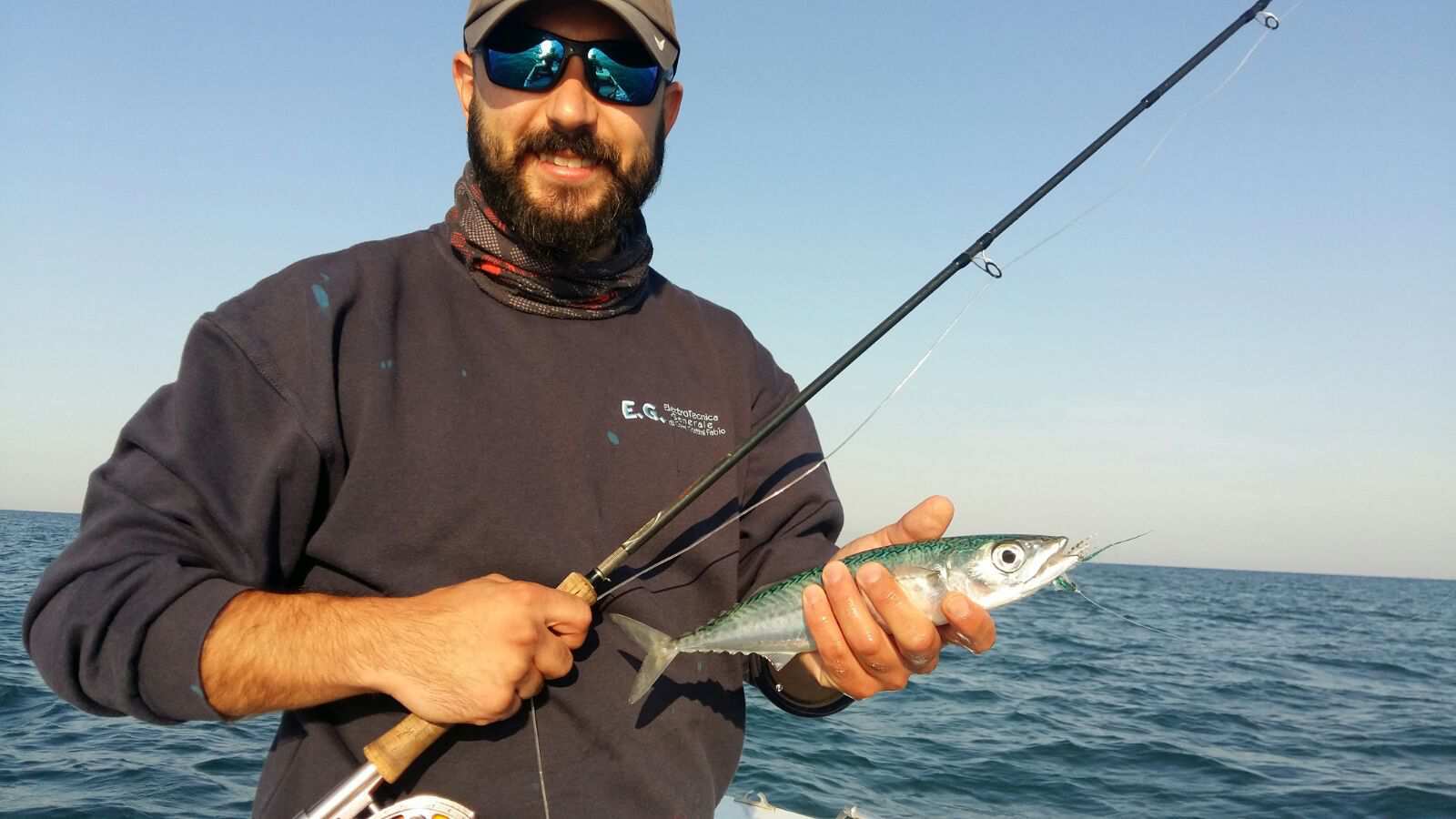 It must be said that I did not expect a thing, a 30 cm fish that pulls so much !! When incanno they give me a lot of fun, calculating that I use an "8'6 # 11" make beautiful leaks given the size, pointing 4/5 times towards the bottom but with me they have few chances despite I am using barbless love.
A couple of hours go by, time is flying. Meanwhile a friend of my "guide" arrives, he too in the boat. It was decided to go out, in the previous days there were Alletterati and Tombarelli. We store the equipment and engine to the maximum. The waves make us jump a little, it is not a boat designed to cut the waves, but the fact remains that it is leading us very well. We arrive in the fishing area, the seabed is about 60 meters below us. Start the search, seagulls, mangeals, any sign to dash on the fish. In the distance you can see seagulls, we decide to reach them but they lay on the water. About half an hour passes and maybe we are, we see seagulls in flight, we reach them but nothing, the sun begins to heat up and the wind is getting lower, it's time now. Soon we see sketches on the surface, it's a mangiance! We rush, we just do it in time to reach it and make the first launch that ends. This is repeated several times, a grueling chase of superficial eating, too small to be able to fish on it in time. Sometimes we can see silver silhouettes underneath us, shoals of tombarelli or alletterati that dart at 15 / 20mt of depth. It's now 11:00 and we decide it's time to go back, too much effort to chase the fish without results.
Fishing trips are now over for these holidays, returning to the daily life of the beach and evenings in the streets of the town. I have only one thing left to do, to cook the 3 horse mackerel and 6 mackerel retained while they are still fresh, they have fed me and my partner for 2 meals and it must be said that they taste exceptional, enjoy your meal!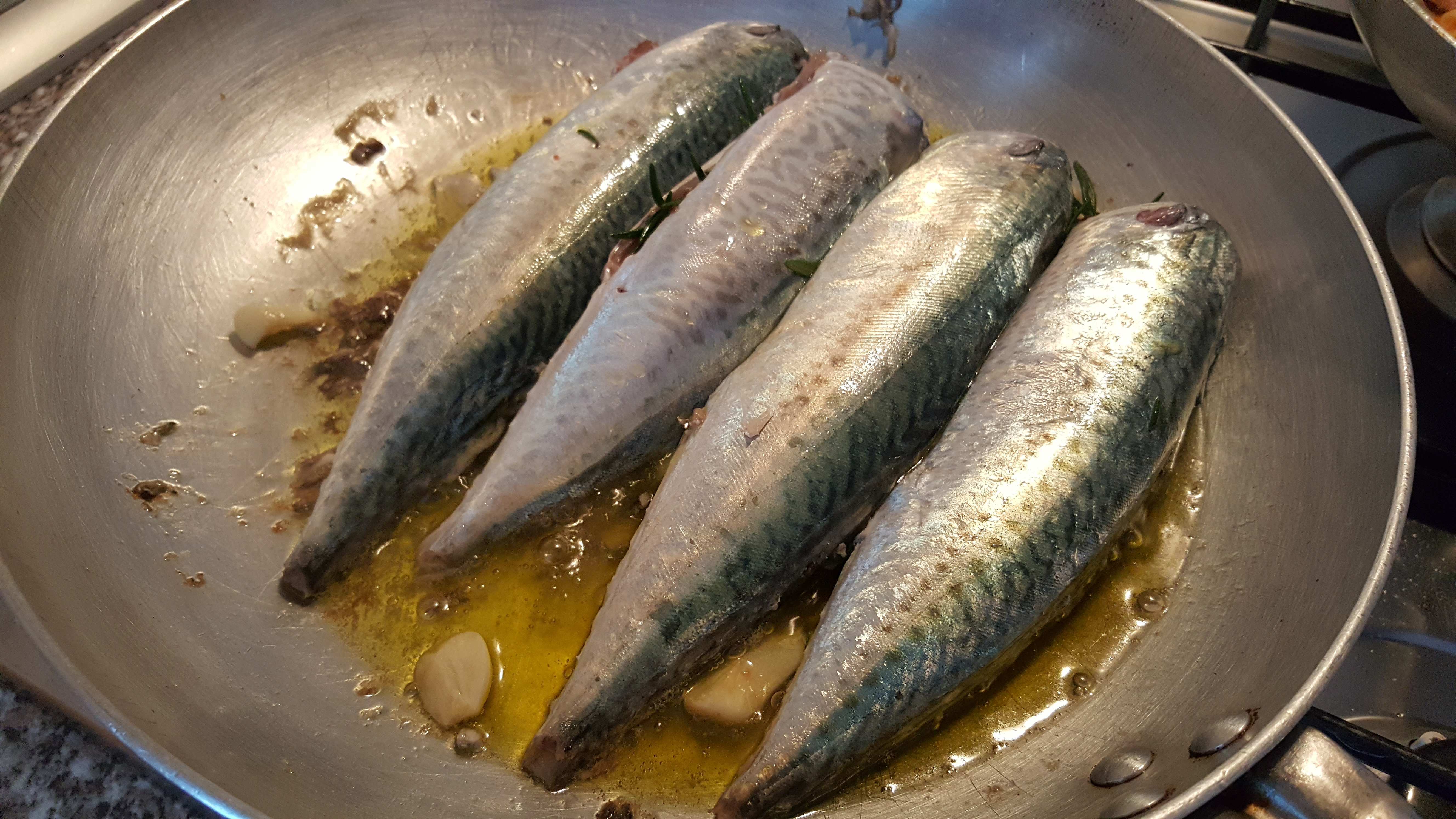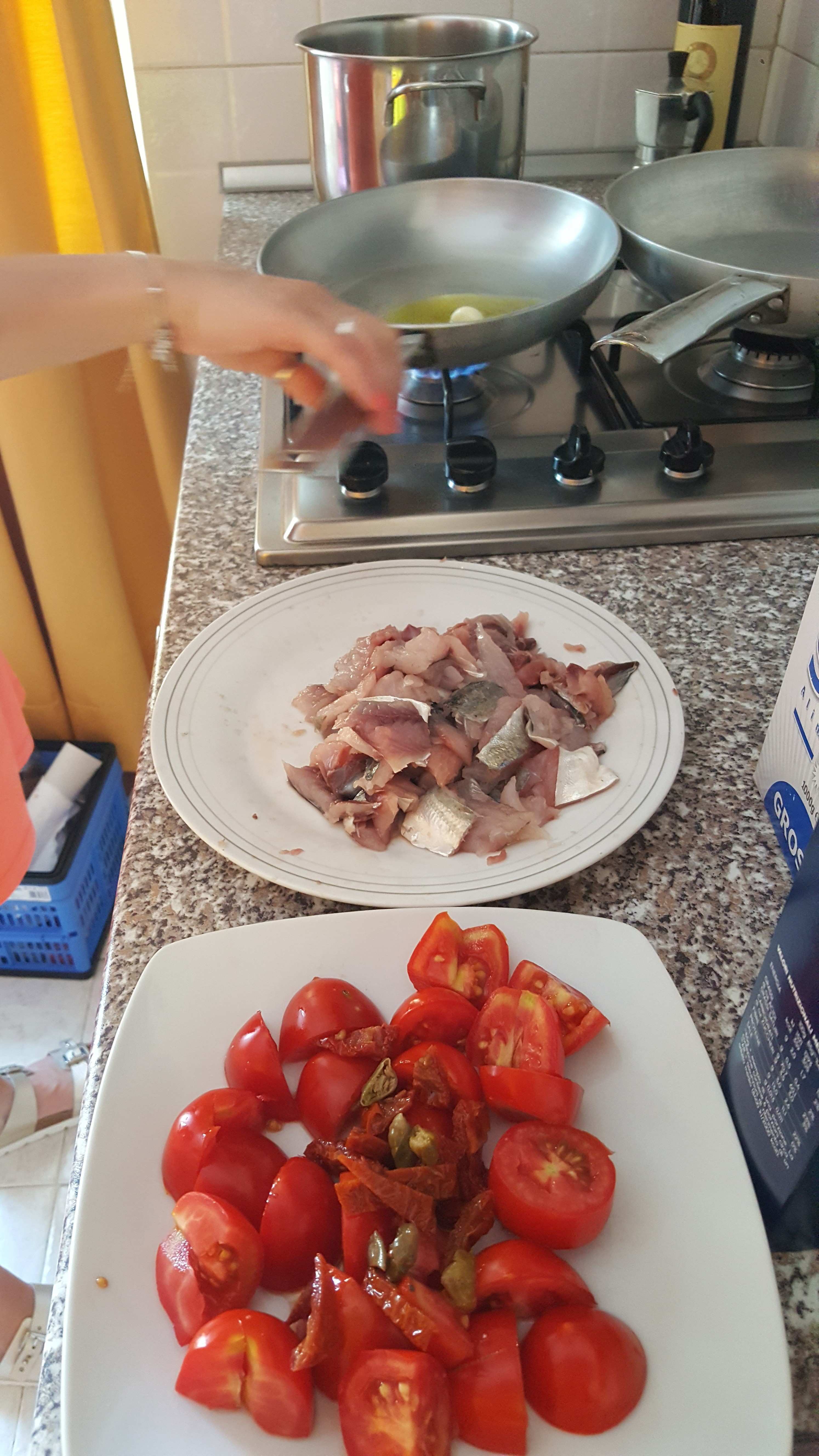 I thank infinitely Federico and Samuele for these two adventures, as different as they are exciting. As a first fly fishing experience at sea it was fantastic. I hope there will soon be a way to go fishing with you, the "fly fishing monkey at sea is climbing on the shoulder".
Comments
No comment at this time!
Leave your comment